Rattlesnake Key at Garden Cove
Located in Upper Key Largo, Florida, Rattlesnake Key is a pleasant area for recreational kayaking and a good fishing spot. From the launch site at Garden Cove you have access to the ocean, mangrove trails and bonefish flats. The area immediately around the Key is a No Motor Zone. The flats are not navigable at low tide, so check the tide tables for Garden Cove before you head out.
Directions: Head for the Keys. Where US-1 and Card Sound Road meet in Key Largo, immediately turn left onto Garden Cove Road (around mm 106). Garden Cove Rd. is actually about 1 block north of where US-1 and Card Sound Rd. meet, so you may need to make a U-turn if you miss the turnoff. Head straight east. Just past the dive shop as the road curves north is an empty lot with a sign that says "Garden Cove Park"- that's the launch site. The ramp is closed to motorized vessels, not kayaks. Park on the side of the road. A kayak cart may help here, but at high tide or after a rain it may be muddy.
Entrance fee/parking: Free. Parking is haphazard and there is no security.
Facilities: None.
Put-in/Take-out: Gravel/ small rocks into shallow water.
Route: Head east to the ocean or south toward the flats and mangrove channels. At higher tides you can circumnavigate Rattlesnake Key. The main channel (North Sound Creek) going south goes to Largo Sound, about 2 miles away. Many of the smaller mangrove channels on the west side of the main channel start out heading west, then curve south and go all the way through to Largo Sound as well. Pennekamp is on the other side of Largo Sound. The reefs are a few miles offshore here, so get on a dive boat if you need to see them.
Wildlife: Cormorants, herons, ibis, bonefish, rays.
Other Stuff: There are lots of small snapper in the channels.

Launch spot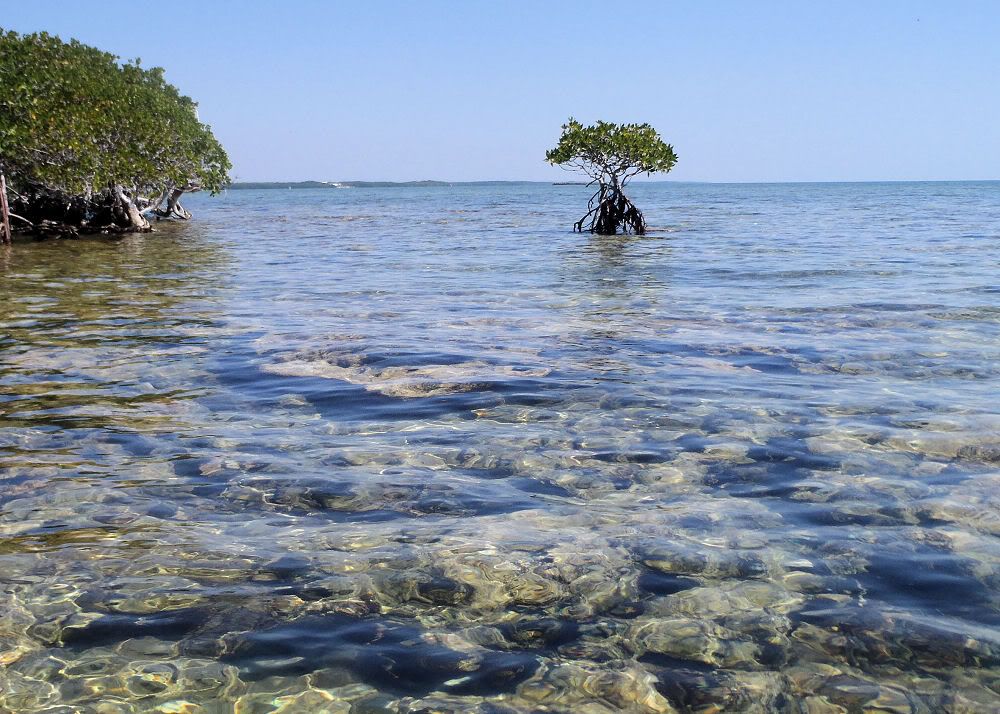 View north from the ocean side of Rattlesnake Key
Maps from Mapquest.com
Site created by